Tikva
Israel based (all products made in the United States)
(FS) = Full Spectrum
By
Panaxia has over 10 years of Research & Development, at least seven patents on formulations and delivery methods, and 10 clinical trials on medical cannabis.
---

(Science First)
Formulated by PhDs

Promotes Overall Wellness*
Non-Psychoactive (THC content is .3% or below)
What is Tikva?
Tikva was created to set a new standard for safe, consistent, and effective CBD. As part of the Ocean Grown Ventures family and backed by Panaxia Pharmaceutical Industries, Tikva is made to the standards all CBD companies should follow.
made to the quality standards all CBD companies should follow.
Founder's Story
Tikva (hope in Hebrew) was born out of a need – a need for a better option. CBD brands have been using questionable ingredients, inconsistent manufacturing processes, and unproven health claims to sell their products. I couldn't find a reliable CBD solution that I trusted, so I created my own.
Our philosophy for Tikva is simple: Science first. Always.
By putting that into practice every day, we're raising the bar for the rest of the industry. We partner with Panaxia, a world-renowned pharmaceutical leader with decades of proven scientific and research expertise in medical cannabis. And even though CBD is not yet regulated by the FDA, we're ahead of the game; our manufacturing practices and testing protocols follow the strictest standards typically reserved for pharmaceutical companies. We play by the rules you want your CBD brand to follow.
It's why I'm so pleased to bring Tikva – hope – to those seeking consistent, reliable relief.
Not all CBD is created equally. Welcome to science you can trust!
Jerry Katz, CEO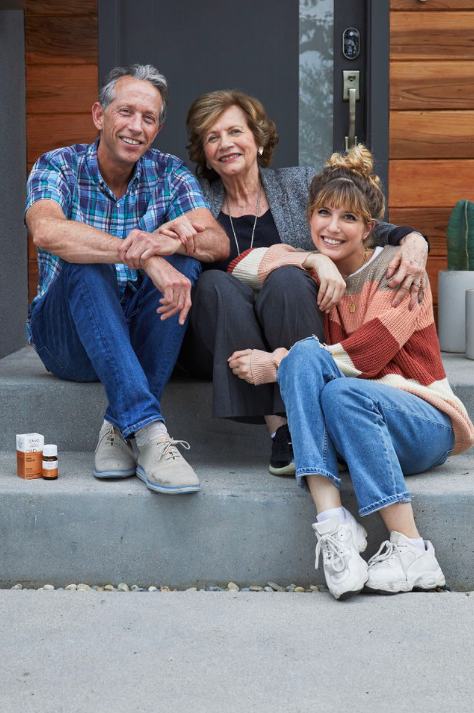 What is Panaxia?
Leveraging over four decades of experience in the pharmaceutical industry, Panaxia is the medical cannabis division of a leading group of Israeli pharmaceutical companies. Thanks to their relentless emphasis on research and development, today their entire group of companies offers more than 600 medical products in over 30 international markets to treat a wide range of symptoms and conditions.
As a leader in pharmaceutical cannabis, Panaxia maximizes research and development efforts to guarantee the highest quality products. A quarter of all their employees are dedicated to Research & Development activities. Their R&D team is composed of highly experienced researchers holding PhDs in chemistry, analytical chemistry, biomedicine and pharmaceuticals. The R&D is based in Panaxia's top-tier facilities in Israel.
Panaxia offers 32 different products in a variety of dosage forms and delivery methods covered by seven patents while working to develop new, innovative products. They meet the highest standards of specificity, reproducibility, and accuracy – guaranteeing stability and accurate dosage delivery.
Panaxia's internal validation methods of all manufacturing processes ensures reproducibility and consistent dosage across all product lines.
To accomplish this feat, Panaxia constantly focuses on measuring their systems and products' efficacy by establishing critical process parameters (CPP) and setting critical quality attributes (CQA).
Taken together, their validation efforts are designed to guarantee that the production process is uniform and results in a consistent pharmaceutical grade product.
Panaxia's products comply with the pharmaceutical industry's Good Manufacturing Practices (GMP) to ensure compliance to the strictest quality standards. Their investment in leading-edge facilities allows them to create more precise measuring methods and production models that are accurate to the nanogram, helping them tailor dosage and delivery methods to treat patients with a wide variety of indications effectively. They strive to minimize risks by maintaining facilities that are certified GMP-compliant during all phases of production.
Panaxia already has over 10 years of Research & Development, at least seven patents on formulations and delivery methods, and 10 clinical trials on medical cannabis.
While American companies are just starting to do this type of research due to federal restrictions, Panaxia is already a decade ahead, leading the world in medical cannabis innovations, and making Tikva products virtually unmatched by anything else in the United States.
For more information on Panaxia, visit them at https://panaxia.co.il
What is CBD?
Cannabidiol (CBD) is a naturally-occurring constituent of hemp (cannabis sativa) plants. It is the most abundant non-psychoactive cannabinoid found in cannabis and is being scientifically investigated for numerous reasons. Most people have heard of the cannabinoid called THC, which is the psychoactive compound in cannabis that gets users "high." Unlike THC, CBD (cannabidiol) is non-psychoactive and does not cause a high. Tikva is made of full-spectrum hemp CBD which means our solutions include other important minor cannabinoids found in hemp.
What are the benefits of full-spectrum hemp derived CBD?
Often referred to as the "entourage effect," full-spectrum hemp products contain not only CBD, but all the other minor cannabinoids, terpenes, and flavonoids found in industrial hemp. Due to federal regulations, we cannot make claims about whether or not full-spectrum hemp CBD can help with specific ailments. We do however urge everyone to research the widely available information online, where you can easily find many resources about full-spectrum hemp CBD and its possible benefits.
Why Tikva?
Not all CBD is created equal; we have science you can trust. Our products are produced to the highest standards thanks to our world class manufacturing partner, Panaxia Pharmaceutical Industries. Tikva's science-first mentality means that we make sure each claim is validated and each product does what it says it will, so that you can have confidence in your wellness solution.
If you want complete information on the questions you should be asking any CBD provider, click here.
What's the difference between full-spectrum hemp derived CBD and marijuana derived CBD?
Both hemp and marijuana are from the same genus and species (cannabis sativa). The characteristic of having low THC is the single difference that most rely on to distinguish industrial hemp from marijuana. CBD extracted from hemp or marijuana is the exact same compound.
Is full-spectrum hemp derived CBD legal?
Yes, thanks to the 2018 Farm Bill all hemp derived CBD products are federally legal, however each state has varying laws regarding sales, consumption, and distribution of such products. Currently, Idaho, Ohio, South Dakota, and Nebraska have state-wide bans on any industrial hemp or cannabis products.
What extraction method does Tikva use?
Our manufacturing partner, Panaxia Pharmaceutical industries, uses non-volatile ethanol extraction to produce our full-spectrum hemp extract. Other extraction methods, such as Butane or Propane extraction can contain residual solvents that are not safe for consumption.
How does Tikva ensure consumer safety?
Tikva CBD is manufactured in strict accordance to predetermined attributes designed specifically to ensure consistent quality and that our customers receive a safe product. Tikva is not only lab tested by a third-party at the end of production, but also four times throughout the chain of production for maximum quality assurance. We test for over 80 pesticides, mold, fungi, heavy metals, and mycotoxins. We use state-of-the-art test methods and world-class equipment to ensure that our products are safe and meet predetermined product specifications. You can find a Certificate of Analysis on each product page, or you can contact us at info@tikvahealth.com if you have any questions.
Is Tikva CBD a whole plant extract, synthetic, or an isolate?
Tikva is not a synthetic CBD or CBD isolate blend. Unlike isolate, which is exclusively CBD without any other compounds from the plant, we use a whole plant full-spectrum hemp extract that is rich in cannabinoids, terpenes, and other beneficial compounds.
What other cannabinoids are in Tikva CBD products?
Our full-spectrum hemp derived CBD contains high concentrations of CBD and also other beneficial cannabinoids such as CBC, CBN, CBG, CBDA, and CBDV. These beneficial cannabinoids are not psychoactive and are being studied scientifically for a wide variety of health benefits. Cannabinoids work synergistically together with what is known as the entourage effect.
What are the suggested storage conditions for Tikva CBD?
We recommend you store Tikva up to 77°F and protect the product from heat, light and humidity.
What is the shelf-life for Tikva CBD?
There currently is no expiration dating for Tikva CBD products.
Where is Tikva CBD manufactured?
Our full-spectrum hemp derived CBD is extracted from hemp plants cultivated on licensed farms and manufactured exclusively by Panaxia Pharmaceutical Industries in the USA.
Why is Tikva CBD not USDA certified?
The USDA has made the statement that they will not certify any hemp products grown in the United States at this time. Tikva CBD is manufactured according to cGMP standards and we partner with a licensed third-party testing laboratory to ensure that our products are safe and meet product testing specifications.
The CBD Store Seattle Washington